SelectorsHub Technical Boot Camp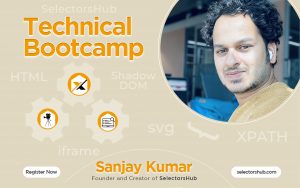 Date & Time:
Sun, 03 July, 08:00 AM to 10.00 AM IST (India Time)
Sat, 02 July, 10:30 PM to 12:30 AM EST (US Time)
Sat, 02 July, 07:30 PM to 09:30 PM PST (US Time)
Sat, 02 July, 09:30 PM to 11:30 AM CST (US Time)
Duration: 2hr
Trainer: Sanjay Kumar, Founder and Creator of SelectorsHub.
Mode of training: Online, goto meeting app.
You will get the Recording.
Who should join this training?
All the automation testers (beginners and advance level). People those who really want to improve their productivity at least by 40-50%, must join this workshop.
What topics will be covered in this Boot Camp?
New Revolutionary Innovative Features Launch, specially for Playwright Users.
In detailed Training on SelectorsHub and TestCase Studio.
How to make the best use of these tools to complete hours of task just in seconds.
How to automate Shadow DOM, iframe, svg using SelectorsHub in seconds.
How to handle all kinds of web elements like dynamic, invisible dropdown and submenu etc using SelectorsHub.
How to use SelectorsHub with Selenium, Cypress and Playwright.
How to write automation script smartly.
Full training on TestCase Studio.
How to complete manual testing without wasting much time and smartly.
Bug reproducing techniques and a lot more.
How to generate Axes Based Relative XPath using SelectorsHub.
How to register & where will you get the joining details?
Click on the respective registration button.
There it will ask to pay the registration fee, pay that.
On the payment confirmation page, you will get the joining details. You can save those details in your calendar.
Everyone will get the google calendar invite within one day after successful payment.
Registration Fee is optional, if you want to pay you can from below link.
For India- 199 INR
For outside India- 5 USD
Note– You will get the Google Calendar invite with joining details within 1 day if you would have paid the registration fee.