SelectorsHub Certification Contest Rules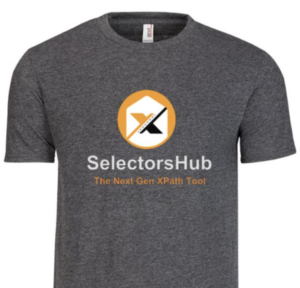 What you need to do to be eligible to win the T-shirt:

1) Score 100% marks in the first attempt.
2) Share your certificate in the LinkedIN post. Tag SelectorsHub & Sanjay Kumar in that post.
3) Give SelectorsHub a 5* rating here.
4) Add certificate in your LinkedIn profile (Steps to add)
5) Share the link of LinkedIN post & rating's screenshot with us on selectorshub@gmail.com
Who will be the winner of T-shirts?
Every week minimum 3 lucky winners will get the T-shirt. SelectorsHub will decide the winners on certain basis like candidate has actually attempted the certification or not etc.
When & where will the winners be announced?
Every Saturday, winners will be announced on SelectorsHub Youtube channel.
Subscribe to channel here and stay tuned.
After winning the T-shirt, when will you get it?
Post announcement, T-Shirt will be ordered within 2 days and it will be delivered to you within 15 days. Delivery might get delayed due to covid situation.
Can I get the T-Shirt if my name is not there in lucky winners?
Yes, you can buy it from here with your own colour choice.
I followed all the rules and completed all the steps but why my name is not there in winner list?
There could be multiple reasons-
1. You might have attempted the quiz through mobile. In reality one can't clear the quiz without solving it on laptop. There are mandatory question which required the laptop.
2.  You might not have signed up with the same email id and not attempted Mandatory Section 3 with the same email id.
3. You might have completed some the mandatory steps and missed one of them.
4. You might have attempted the quiz multiple times to score 100% with different email.
5. Only one T-shirt will be awarded to one particular address.
Note: SelectorsHub holds all the rights to update and modify the contest.